Well, this is it: my last post from the Peking to Paris Rally as the official WEVO blogjacker.
As I write, our boys are in France, safe and sound. Jamie Lipman and I have made our Chunnel plans to get to Paris for the black tie dinner on Saturday night, and bring Lola back to the UK the following day. I hope she's still this dirty: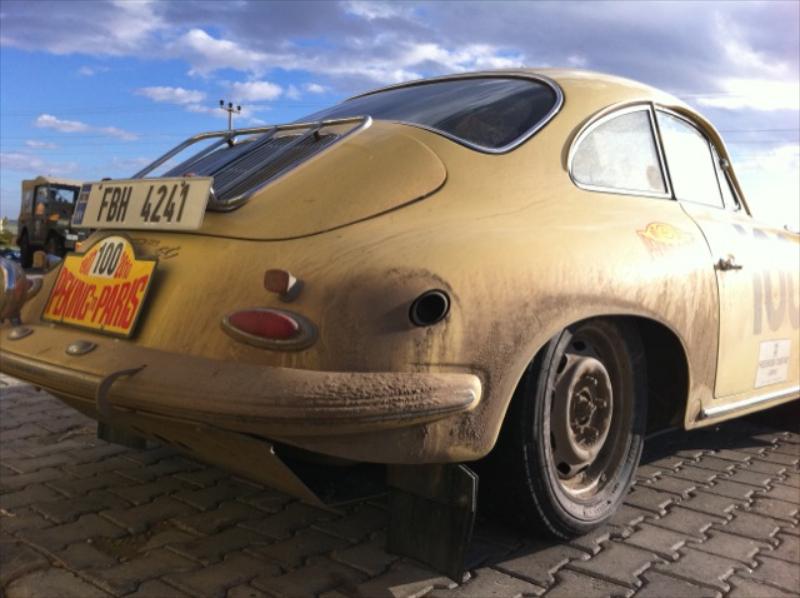 Hayden's latest texts are fun. He and Steven are both really enjoying the last days of this magnificent event, and doing their best to be right there should anyone in front have a problem. Here's Hayden:
October 13th:Â 
Apologies for the enforced blackout when we got my $1750 phone bill!
Only about 35 cars are still running the timed stages; the balance of the field is now just touring, autostrada and short cuts to get to the hotels and Paris.

The "A" Team, Aston, Andrew & Adrian are still hoping for a chance to beat the Anodol, another mistake or two by the Turks may open that door. We are unlikely to eclipse the FX Holden, so our remaining contest is to keep the Cadillac behind us, a 5-minute gap being the closest race of consequence on the Classics scoreboard. Whole day cancelled due to late ferry arrival, just heading up the A1 / A11 autostrada to get into Viareggio.
Hopefully day 35 will include some contests, or the thing will be a tour to Paris. Your prediction of rain is correct: light, heavy or gloomy so far all day.
October 14th:
Had a good day today, tough sections almost impossible to clean, but the kicker was a tight time control in the middle of the hard stuff. We lost 12 mins, the 102 Holden, only 9. But I am sure we gapped the Cadillac and made some inroads on Greg Newton. Not enough to change positions, but enough to cement them as-is. The Anodol lost some more time, I guess the Aston is hoping for a Hail Mary tomorrow…
OK, back to me.
Tomorrow is the last full day of rallying. I am going to miss reading all the different blogs, and their various uncensored opinions on events, and combining their feedback with what other information could be found, to piece together tales from the event. Thanks to all of you who followed my posts on this marvellous adventure.
Roll on Steven's next big road trip: this one has been a thrill. Here's to Saturday night, and some fun with our much-loved friends in fabulous France!
Best regards to you all,
John Glynn: Classic Porsche Blogger