The Peking to Paris Marathon event would not have been successful for Steven and I without the assistance of dozens of people. The fact that the 356 was able to carry us across the 11 nations (12 including the UK afterwards) is a real testament to the design and manufacture of the original car and it's modern preparation and support during the event.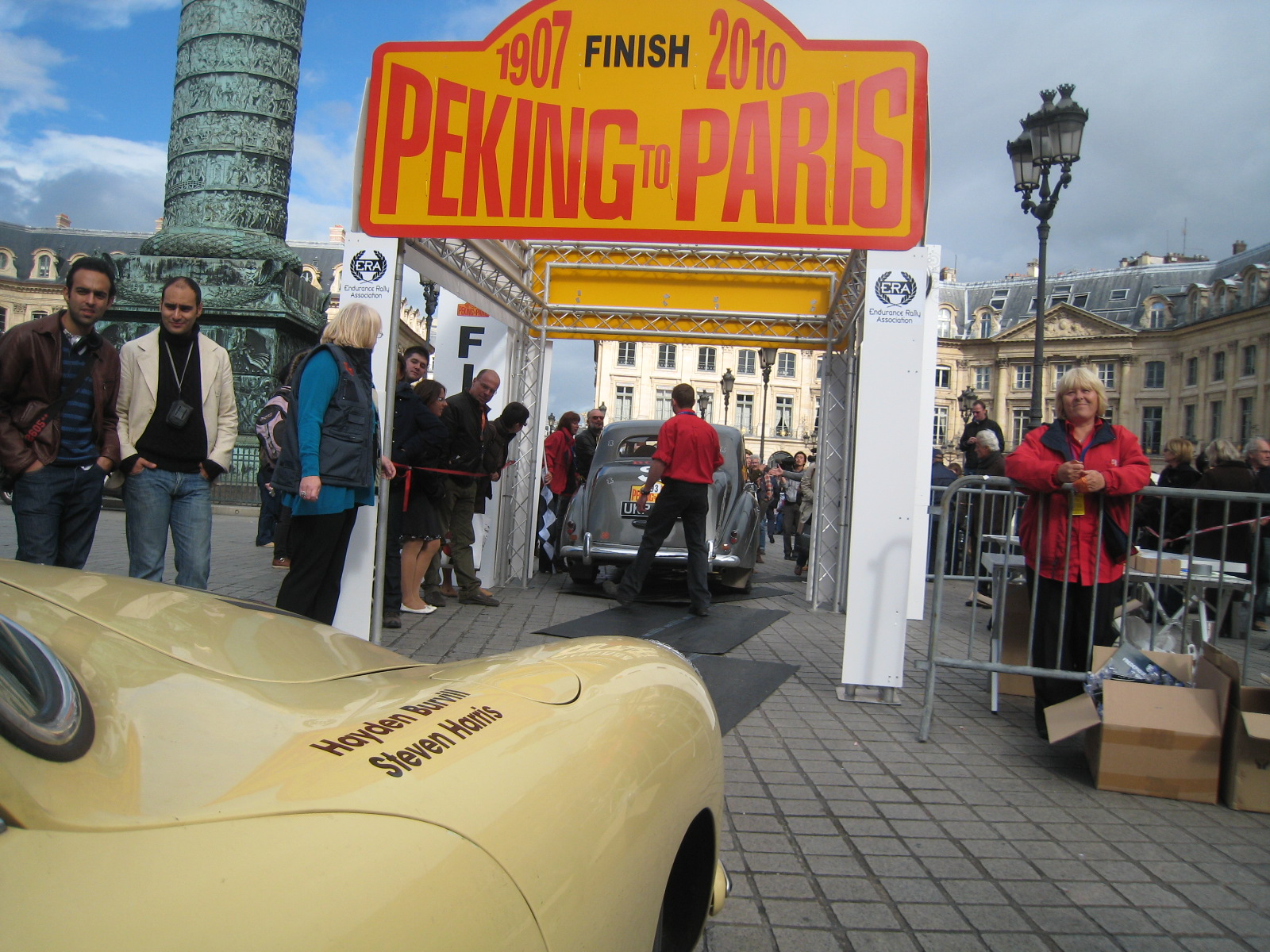 So without any hierarchy a big thank you goes to the following people for their role in our adventure;
My wife Tracey for being on stand-by to discover ways to ship parts on short notice to countries neither of us could spell 9 months ago. Also for holding the WEVO fort during my 45 day absence.
The staff at Steven Harris Architects in Manhattan, NY for helping Steven arrange all the event logistics, paperwork, insurance, payments etc as we prepared for the event.
Alan Klingman at "The Stable" in San Francisco – Alan located the 1964 356C when we started looking for one. Alan built us a fantastic and appropriate motor and the transmission, plus provided hours of 356 specific technical guidance and advice while we made decisions about how to prepare the car for the Peking to Paris challenges. Alan also responded like lightning after I called him on a Satellite phone from the middle of the desert in Uliastay, Mongolia to tell him we needed new swing axle tubes after the suspension breakages that day. Between Alan, his fabricators at Hasselgren Racing and Tracey, the necessary kit of repair parts were shipped within hours by TNT and beat us into Almaty, Kazakhstan by 48 hours, where we had scheduled to install the new parts. Alan sprung to service a second time, finding a spare 12 volt generator to send to Istanbul, once again between Alan, Tracey and TNT, the parts beat us by a generous margin and we had no concerns about intercepting our spare parts. (unlike some of our fellow competitors who chased late arriving spares all across central Asia).
John Glynn for Blogjacking this site on a regular basis, taking scant reports from various media and making them into webentertainment for those wanting to keep up with our adventure. John also played a logistic role in delivering our spare tires to Almaty and Istanbul, plus in an emergency move John located and couriered some spare generator brushes to Mrs Louisa Gosden in London (wife of Adrian – Aston Martin DB5 # 98) who was en route to Alamaty for a "romantic weekend" – and most importantly as express courier of a half dozen more rear dampers to feed the Aston's continuous appetite for rear suspension parts.
John also came down to Paris for the end of the Rally and made sure I didn't get into trouble at the prize giving or subsequent late night partying. Unfortunately I wasn't there for John when he inadvertently sent a text intended for me to his wife at 3.30am in the morning – "taxi told us it was an all night dance club….turned out to be a brothel, I'm heading back to the hotel, see you for breakfast". Finally, John for meeting me at Heathrow last Wednesday, suffering the last of my post Rally decompression babble and taking Lola away to test drive and form his opinions for an upcoming article about this wonderful car.
Gwendolyne Indjoudjian in Almaty, Kazakhstan for being our central Asia point of contact and receiving agent for tires and suspension parts. I had never met Gwendolyne, she was introduced via email as a friend of a client of Steven's. Gwendolyne's willingness to help us in a foreign country and at significant inconvenience to herself was a lovely act of charity. In true rally fashion, I spent just a few minutes totally inappropriately dressed and filthy dirty in the lobby of a 5 star hotel thanking Gwendolyne while her fiance, Steven and his clients prepared to dine locally. Thanks also to Gwendolyne's Aunt, who allowed us to store 4 tires and a box of suspension parts in her garage so that Gwendolyne did not need to drag them up the stairs into her small apartment….
Kim Cramer for stepping up as our 24hr emergency contact and data feed while we were in the Eastern Hemisphere. Kim was fully equipped with every policy number, every name, every number and copies of legal documents and passports. Thankfully none of this was needed, but being prepared as thoroughly and with an expert on stand-by this allowed us to draw on Murphy's law and need no crisis support.
Kim was feeding me constant data as we encountered our first emergency on day 8 and were limping into Uliastay. Names and locations of local repair shops, possible alternatives and local signage to guide us to the resource. I took great comfort in knowing we had found the most appropriate repair shop in the town – horror at the fact that they would be unlikely to repair our damage. It turned out that once I reflected on our situation and put faith in the ingenuity of the locals, that they probably could fix the car, it was more my lack of "how do we get there from here" state of mind that was the obstruction. A few hours later when Kim's intelligence had confirmed the resources of Uliastay (or lack of) I was able to resign to watching a craftsman with a stick welder, rods of unknown alloy, earth strap of tattered braid puddle the rear suspension of the 356 back into a whole assembly.
Brian Kirkis our Technician at WEVO and Derek Bosman, our summer intern who both worked long hours and prepared every element of the car to the level of zero faults. It was critical to embrace the reality that this car was going into an environment where a 356 should not be taken and needed to survive without any real support system beyond great preparation and the tools and spares on board. The fact that every system on the car performed exactly as designed, intended and prepared is true illustration of the attention to detail necessary to prepare competent and competitive cars.
Thanks also to Derek for visiting Place Vendome at the finish line and seeing the car in Europe and to admire his work again after the car completed the event – good luck with your Engineering studies at Delft.
Brian can look forwards to taking the whole car apart again when it returns and to see just how much harm was inflicted on the 356 in 37 days.
Garrick Staples and Robert McClements who were our "spark buddies" for 8 days straight from Belokurikha to Samarkand, making sure we were never short of voltage, they shadowed our progress to converge on a daily, mid-day schedule so we could swap our depleted battery into the VW and take their fully charged battery to completed the day. They also provided the guiding light when we needed to run the last 200km into Belokurikha with no lights at all, generator dead, running on battery alone, two little aircooled cars skimming over some perfect Russian asphalt roads under what was fortunately a full moon in the early morning hours.
Dave Staples, Garrick's father who entered both 2007 and 2010. In late February, Dave met with Steven and I, offered very valuable intelligence about the 2007 event and some insights into how his preparation for 2010 was skewed by his 2007 experiences. We applied some of that logic directly to the preparation of the 356 and were very happy that we did.
Our new friends and competitors that we made on the Rally. A real sense of community develops as we moved en-masse across the far east, central Asia, eastern Europe and into the EU proper. In particular the help of Ahmet and Erdol from the Anadol was amazing. They had connections reaching into central Asia and without their corresponding connection to a 356 enthusiast in their native Turkey who surrendered his spare 12volt generator for a midnight trip to Tashkent (via yet another Turkish connection), we would have had to rely upon our "spark buddies" until Istanbul.
Every evening was a lesson in humility, there were always rally friends who had either a better or worse day than you had. For a group of people who often enjoy being over-achievers in their daily life, it was very rare to feel particularly extraordinary when everyone has made it into the end of day control and all share the same huge sense of accomplishment on a daily basis.
Thanks too for all those who participated in a more modest manner, enjoyed our adventure vicariously through the information on this site and others bolgsites. It was a great adventure and one that I would recommend to anyone who has the inclination to attempt something like this.