News from the Americas! Hayden and Steven have just enjoyed their second rest day of the event, at Puno in Southern Peru, on the shores of Lake Titicaca. This update was from Tuesday night.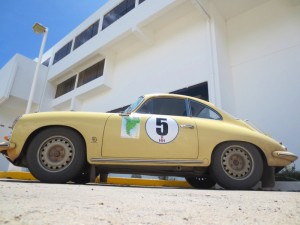 Nice drive this morning, 0500hrs wake up to leave La Paz early enough to avoid road blockages by striking workers. Lovely drive and little barge crossing to Peru border, leaving beautiful but contradictory Bolivia behind. 
Great hotel on Lake Titicaca makes rest day tomorrow even more anticipated. Lola still faultless, but the Porsche 356 will get a greasing and general spanner check. That said, Lola needs new plugs again, as poor fuel has been hard on plugs in all the old cars. T is bringing three more sets to Cusco in 2 days.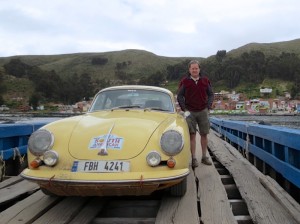 We have run at over 14,300 feet without re-jetting the carbs, so very happy and proud of our sea level work and the choices Brian and I made in setting these up! Our faith in physics continues.
Yesterday on the way into La Paz, we sat at 120 km/h (72mph) for an hours or so at just over 3,900 metres, or almost 13,00 feet. Where else in the world can you do that? That's like a highway joining all the high peaks of the Rockies. Amazing!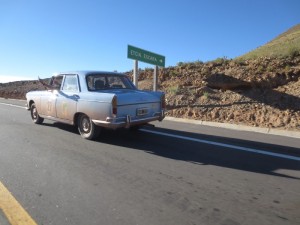 Today rest day, tomorrow Puno to Cusco, in the foothills south of Machu Picchu. Next day is another rest day to allow some exploring in the legendary Peruvian ruins, followed by a 600-kilometre drive to Arequipa, not Aeroquipa as per the rally notes.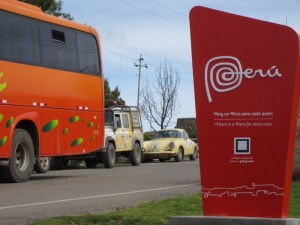 Second biggest city in Peru, the historic centre of Arequipa has been granted UNESCO World Cultural Heritage status. The old town's beautiful heart is balanced by some of the highest levels of solar radiation in all of South America, thanks to the nearby Atacama Desert and local air pollution. Break out the UV sunblock! More news when we get it.