As an Australian who has lived most of my adult life outside of Australia, my view of the Classic car scene in Australia is pretty limited – sort of stuck in the early 80′s. Regularly adjusted by conversations and short visits to Australia, but never fully rounded by first hand exposure to any Australian Classic Car events.
My good friend John Forcier (AKA "Fishcop") from Brisvegas recently invited me to join him at the 2012 Philip Island Classic. With various pressures here in the USA, it did not really fit with my next scheduled travel to Australia, so I had to abandon any thought of joining John and the Porsche racing crew at Philip Island.
I suggested to John I would blog something about the event if he sent me a paddock photo. In researching the event a little for this post I soon discovered that I had grossly misunderstood the giant scale of this annual event and the important role it must hold for Australian Historic and Classic racing.
For 2012, a record 573 race cars are entered and a further 620 Classic and Historic cars are on display. Remember that Australia as a whole nation has only 2/3rds the population of California. This is an astonishing number of cars and I am sure it will make for a very busy weekend. Unfortunately I have not been able to locate a website that offers either concise entry, schedule or results, but I will update here if I do.
Philip Island is one of Australia's most classic and historied racing circuits, it enjoys huge camp-out weekend's for MotoGP, Classic bike racing, Classic Car racing, World Supebikes and V8 Supercar racing. Kind of like the Watkins Glen of Australia. Â  http://www.phillipislandguide.com/maps.html
John is there with an all Porsche crew, tending to cars in the Sb and Sc categories for '61-'69 production Sports Cars and '70-'77 Productions Sports cars respectively. I understand there will be more coverage on the Type 901 site in Australia, home forum for most of these racers. Content is thin so far, perhaps the post event will include more recollections and photos.
http://www.typ901.org/showthread.php?t=3659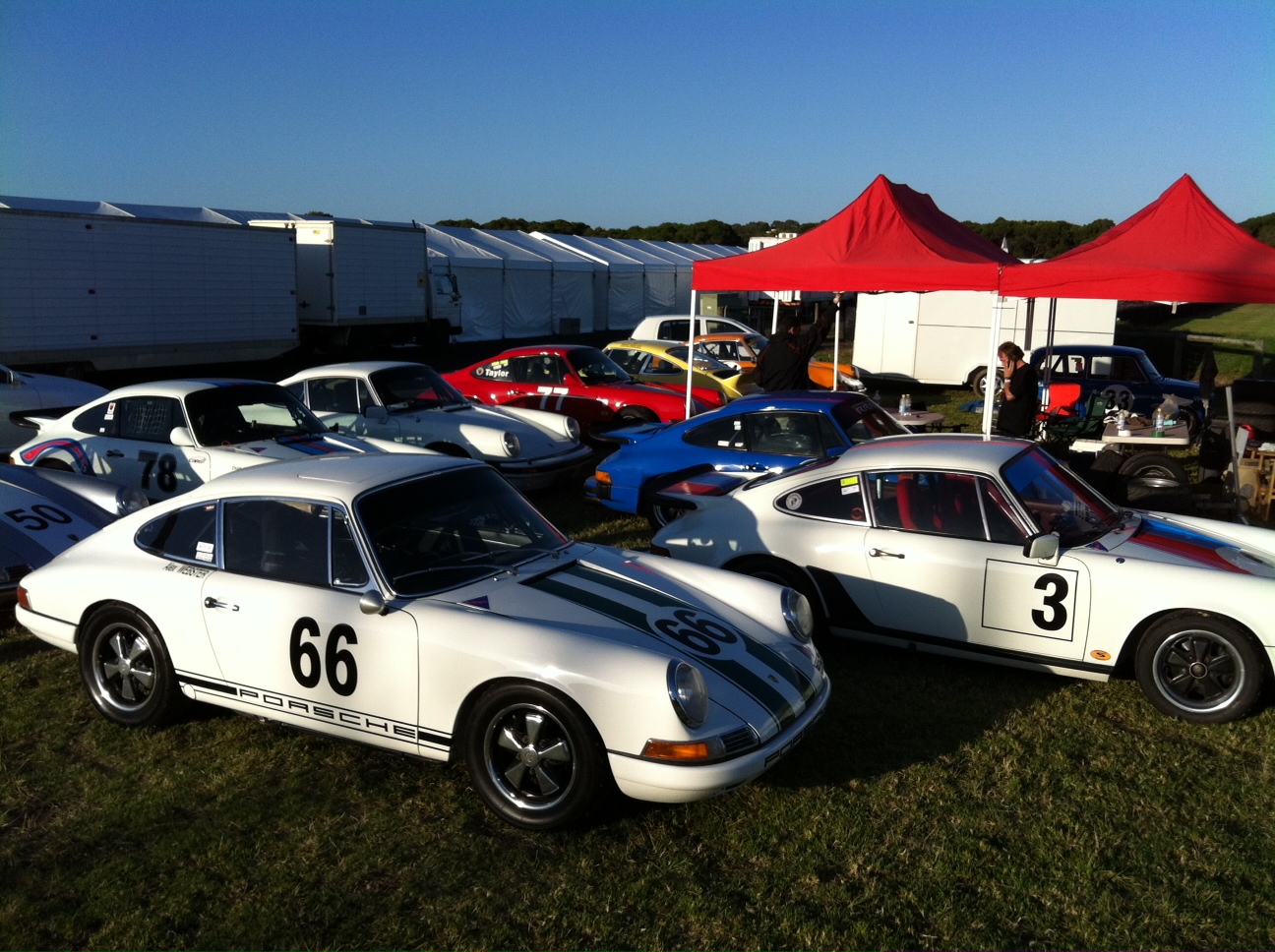 Philip Island is a small island near Melbourne, where the opening race of the 2012 F1 season will be held next weekend – March 18th. For a motor racing enthusiast, the back to back weekends would bookend a great visit to the area. Accommodation on the island itself is limited, so I am guessing John snapped this early morning i-phone photo, groggy eyed from his sleeping bag on top of a race trailer….