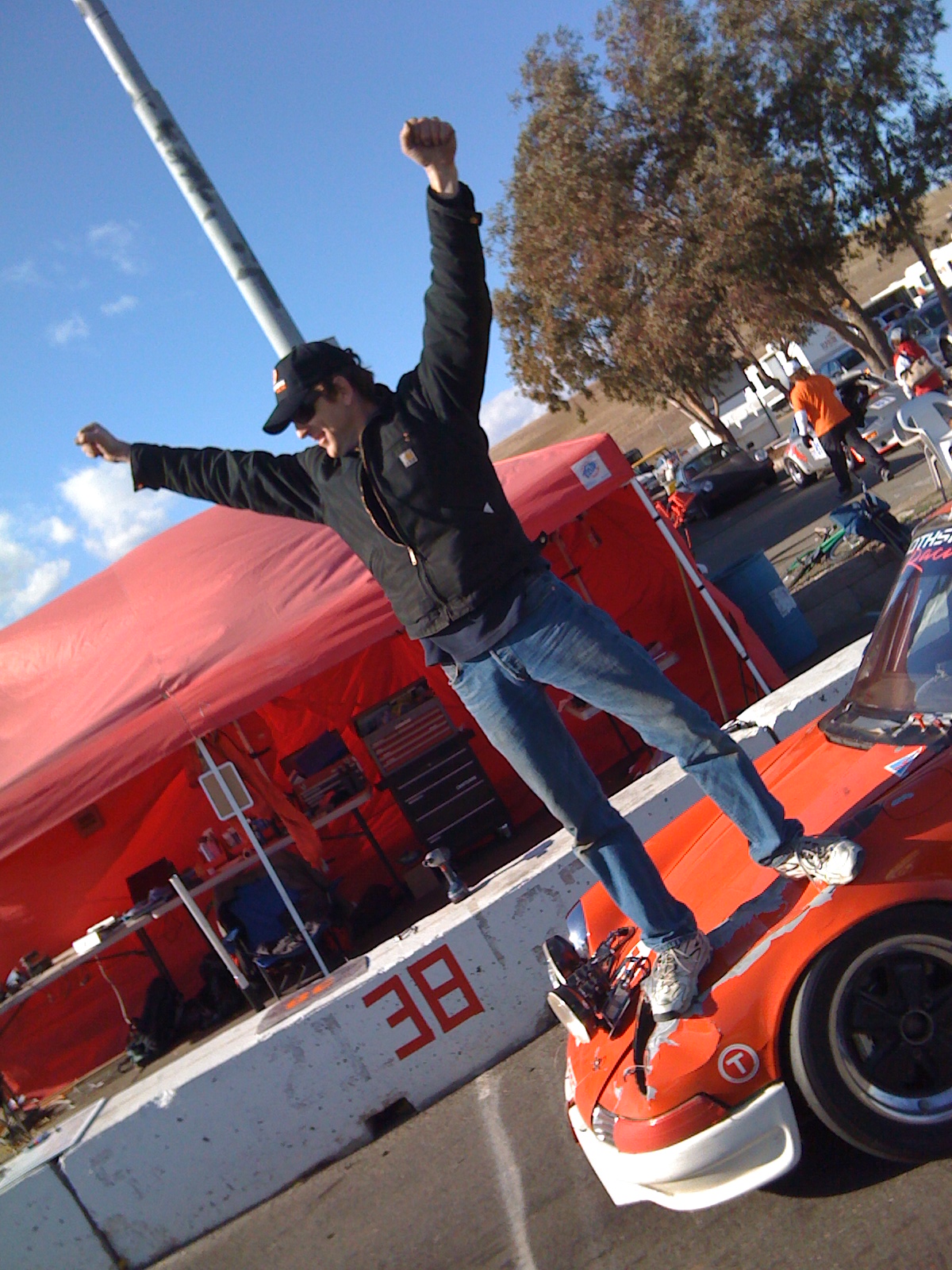 Product development is something we take very seriously at Windrush, this applies to our WEVO products as well as any of the consulting design we undertake for motor racing clients.
There are always extremes. Forces, weight, cost and in this wonderful example – Endurance.
Thomas Jameson has been a friend and customer for the last 8 years. When Thomas called me in October to discuss his plans to run the NASA 25hr race at Thunderhill, we talked quite candidly about his plans and the state-of-readiness for the variety of systems on his car. http://www.nasa25hour.com/
Thomas joined forces with Jeff Gamroth from Rothsports (http://rothsport-racing.com/)Â in Tualatin, David Agretelis and Greg Ross to enter the 38 car in the 2009 edition of the NASA 25hr race.
In doing so Thomas committed his car to the most extreme endurance road race event accessible to recreational motor racing drivers. His 1970 911 has been developed to race in the PRC Toyo Spec 911 Class (GTS) and has a full compliment of WEVO products on board.
Their event was not without drama. Contact with a Miata early in the race lead to significant damage, ultimately mostly cosmetic, as the car was made safe and continued to race, recovering to 4th place in the EO class, covering 657 laps of the 3.0 mile circuit in 25 hours.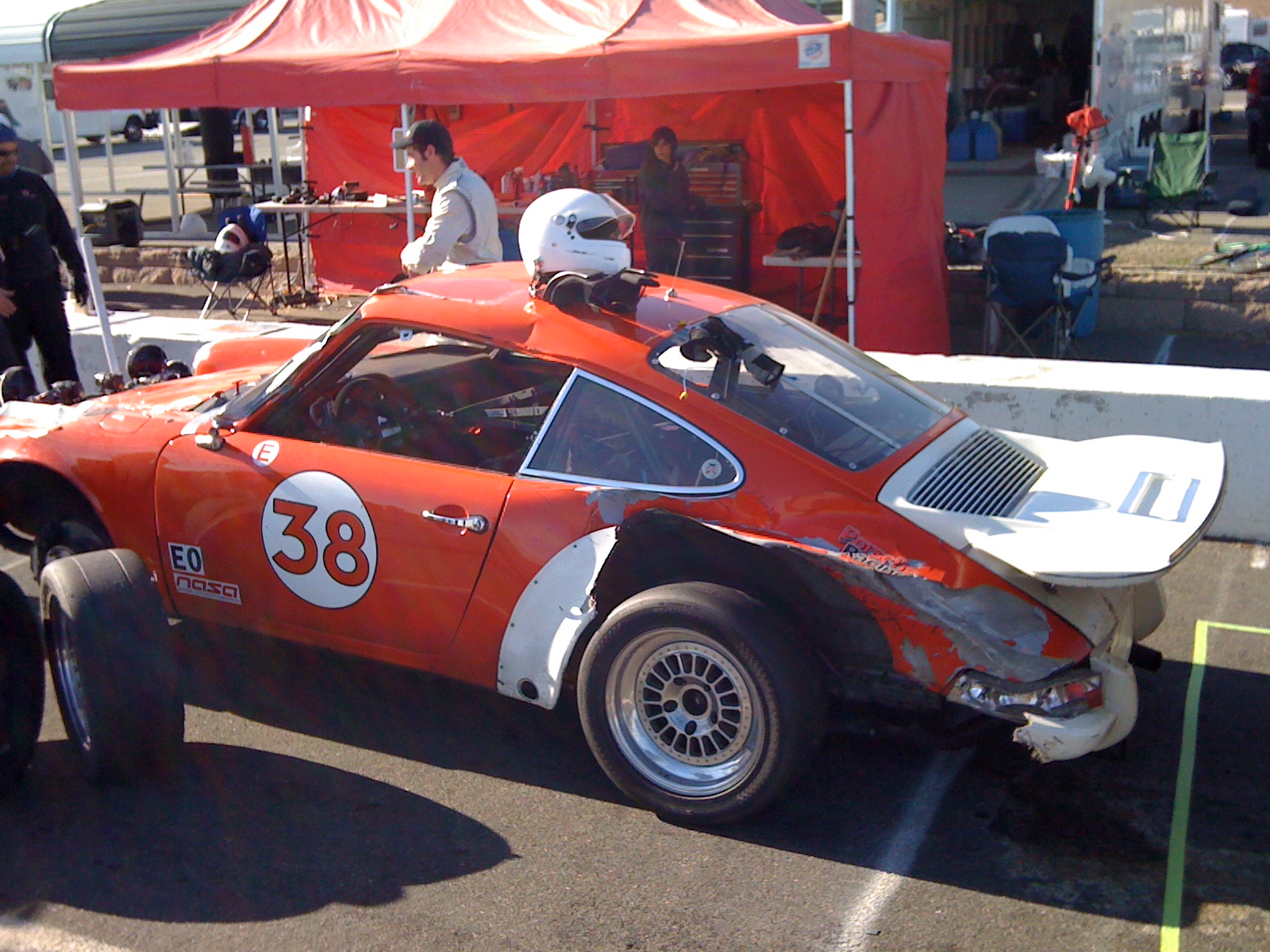 WEVO congratulates the cheekily named Team Motorsports Racing for surviving the freezing (25 F at dawn !) cold weather,  all challenges and racing the 38 car for over 2000 miles without any maintenance. I have spoken to Thomas and Jeff since the weekend, both were buzzing with residual excitement from their enjoyment of the event.
Onboard the 38 car was a WEVO line card including, 915 Shifter, 915 GateShift kit, XT-032 Bearing retainer, Stock 911 PSJ, SS Engine mounts, SS transmission mounts, CamberKing and WEVO SPS. All performed flawlessly, as did the 915 race transmission assembled by yours truly.
The WEVO SPS and CamberKing both took excess pounding as the Miata auger'd across the roof and down the side after climbing the LR  tire.
With the steering wheel considered to be acceptably straight and the remaining bodywork pulled clear of the tires, the car ran like clockwork, clicking off lap times that were better than GTS lap records – albeit on Hoosier DOT radial tires (not legal for GTS).
Over 60 cars entered in the NASA 25hr event, so Team Motorsports Racing shared their enduro experience over the weekend of December 5th with hundreds of others from all over the country.
Both Jeff and Thomas have vowed to return again in 2010, with plans already forming about how to make an even more competitive effort.
Anyone who knows Jeff, will appreciate his post race jubilance and homage to the early 911. (top)